Returns and Exchanges
Our return policy
If you wish to return your order to us, you can send us the product or products within a period of 30 days as of the date of reception of your order. Only products that were previously purchased by the Customer on the Website and then delivered to the Customer may be returned to the Seller by the Customer.
In order for you to be refunded, products must be returned to us in a resalable condition, in the original packaging, and accompanied by all instructions for use and accessories. Products must always still have their barcodes and original labels.
How to return a product?

To return an item, please follow the instructions on the return slip present in the parcel you received (see illustration below).
Should you lose your return label : Please contact us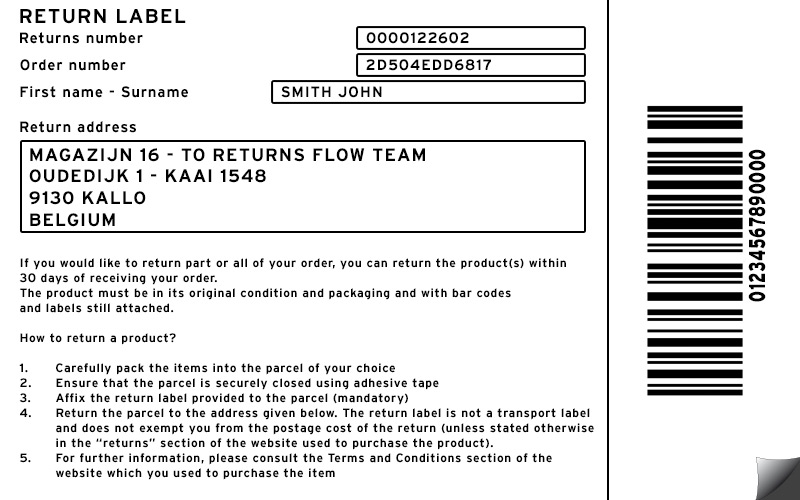 Please note that products being returned must be sent to a Belgium address.
1. Carefully pack your products in a parcel of your choice.
2. Make sure that the parcel is securely sealed using adhesive tape.
3. Stick the return slip supplied with your order on the top of the parcel (see illustration above).
4. Take your parcel to a post office or entrust it to a parcel delivery service of your choice.
Products returned by the Customer to the Seller must be addressed to:
MAGAZIJN 16
TO RETURNS FLOW TEAM
OUDEDIJK 1 - KAAI 1548
9130 KALLO
BELGIUM
Be Careful : Products returned without the return slip cannot be processed.
If you have lost the label, contact the Customer Service department to obtain a new one.
We remind you that Products are returned at your own cost.
If you are returning items from different orders, please affix the different return labels originally supplied with these orders to the return parcel.
5. On reception of the goods at our warehouse and following confirmation of the condition of the product or products, we will refund the invoiced amount to the account used to pay for the order.
We reserve the right to accept or refuse returned products which do not satisfy the requirements set out here or which are considered not to be eligible for the return service.
Our exchange policy
We do not currently offer the option of exchanging products. If you wish to exchange a product, please return your purchase in order to obtain a refund and then place a new order.
Damaged or faulty products
If you have to return products due to a defect or an error on our part, please contact our Customer Service department for instructions on the applicable procedure. Failure to do so means that we will be unable to refund your return delivery costs.
For further information, please consult our Terms and Conditions of Sale.